Smithers Medical Products Inc. is the manufacturer of the Alpha Cradle® brand devices. At the 1981 ASTRO meeting in Miami, Florida, two Alpha Cradle devices were introduced to the field of radiation therapy. Within the first year, the product line grew into 14 different anatomical devices. Today, 30 years later, SMP offers more than 40 different anatomical devices, features a dozen different sizes of foaming agents, and offers individual customized devices where needed. Our products are used in RT, Proton Therapy, CT, PET, MRI, X-Ray, Flouroscopy, cardiac catheterization, animal research and other procedures where the patient must remain motionless for periods of time. Our products comfortably and securely hold your patients.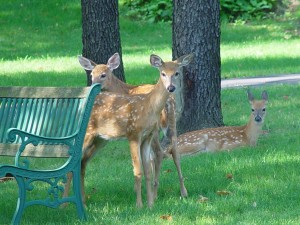 Our unique and patented line of products has been awarded seven patents, and has been used in more than 2,100 cancer treatment centers, medical centers and hospitals, located in 18 different countries around the world. The products can be found in research papers, medical encyclopedias, textbooks, and journals. The Alpha Cradle brand products continue to be discussed in medical abstracts and presented in papers as being a critical part in successful radiation therapy treatment programs. Alpha Cradle brand devices have been an important part of protocol for several different RT procedures.
Smithers Medical Products, Inc. is located in North Canton, Ohio. Our three warehouses sit on six acres of land that have been developed into a park-like setting. Deer, wild turkeys, opossums, raccoons, ground hogs, woodpeckers, red-tailed hawks and other wildlife are just some of the natural guests that can be found. Smithers Medical Products, Inc. uses recycled products that would have been sent to landfills, but now are used to make body forms on cancer patients that help increase accuracy and ensure patient comfort.
Meet Jeffrey Kostich Sr.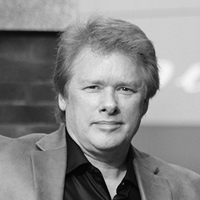 Jeffrey Kostich Sr. started working at Smithers Medical Products, Inc. in January 1984. After spending his first year traveling to different medical centers across the country, Jeffrey saw a need for a new type of immobilization device. The next year, he invented the ACMM, Alpha Cradle Mold Maker, a device that allows you to create a body mold on any part of the human anatomy, on any patient, in any position. Demand for the new product was so great, Jeffrey  developed and implemented a series of repositioning and immobilization symposiums across the country. This innovative idea allowed therapists from all over the country to have a hands-on demonstration of how the system worked, and allowed the medical practitioner to see what it was like to have a body mold made on them.
Within three short years, Jeffrey rose through the ranks, became president, and bought the company. Given a five year time-table to pay off the company debts, Jeffrey was able to pay off the debts early and emerged as a leader in the field of patient immobilization. Jeffrey worked with Gunilla Bentel, at Duke University Medical Center, where he developed new and innovative products. He has been awarded seven United States patents, and designed several registered trademarks.
Over the years, Jeffrey supported radiation therapy training centers by providing body molds and text books for medical students to obtain hands-on experience in immobilization labs. Over the years, his products have been used in more than 2,100 cancer treatment centers and hospitals in 18 countries around the world. The products he designed can be found in medical encyclopedias, textbooks, and journals. The Alpha Cradle brand products continue to be discussed in medical abstracts and presented in papers as being a critical part in successful radiation therapy treatment programs and proton therapy centers in the United States.
When asked how he develops new products, Jeffrey always starts with the patient.
Patient comfort and security are always first and foremost in every product I design. My products make it easier for the patient to be repositioned in the same position each and every day they come in for treatment. As treatment techniques become more advanced, patient repositioning and immobilization becomes even more critical. The patient can be laying on the table for longer periods of time, waiting for doctors to review and 'OK' imaging and treatment. I learned that when you make the patient comfortable, it's easier for them to hold that critical position needed for their treatment. I think staff members, including oncologists, that treat patients, should get into every device they put a patient in. They should experience what they are going to put their patient through. If everyone did that, you'd see a major shift in device use at hospitals. There is nothing in the world more comfortable and secure than an Alpha Cradle brand body mold.
Today, Jeffrey continues to develop new products, including our newest two forms, the Frog Form and the Side Form. These forms were developed for the treatment of anal cancer, and treating decubitis patients, respectively. Jeffrey also designs all of the company's literature, instructional videos, and website materials. Jeffrey lives in North Canton, Ohio, with his two sons, now in college, and his dog, George!
Since 2003, SMP Inc. has sent care packages to the men and women of the Armed Forces that have been deployed to Iraq and Afghanistan. The president of SMP, Jeffrey Kostich, sends personal letters and packages each month, every month, during the soldier's tour, in the Middle East. To date, every soldier he has sent letters and packages to has come home.
A Memorial Wall in his office has been dedicated to the men and women served by this program over the years.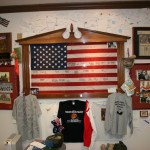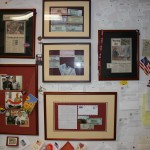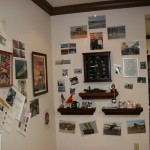 "It serves as a daily reminder for me that there are soldiers out there, fellow Americans I have never and probably will never meet, that are putting their lives on the line as they go to work everyday. It makes me want to do my part to support them in deed, and not just word."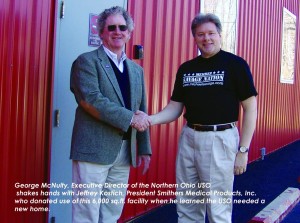 SMP also donated use of an entire 6,000 square foot warehouse to the USO 2003-2010. It was one of the largest package distributions centers in the United States for the USO.
SMP Inc. supports many charities, some include Helping Hospitalized Vets (HHV), the USO, and the Make-A-Wish Foundation. SMP Inc. also donates thousands of dollars of free products and textbooks each year to VA Medical Centers, teaching hospitals and training centers across the United States.